Have you come across the furry fandom on social media platforms? The furry community or the furry fandom consists of people fond of fictional anthropomorphic animal characters. These imaginary animals include characters such as Sonic the Hedgehog, who have human traits.
The furry fandom is obsessed with such characters. Some furries even create fursonas which are furry-themed avatars.
Furries can associate themselves with the fursonas as these avatars have human traits that depict a furry's personality. Thus, fursonas are more like personalized anthropomorphic characters for furries.
Many artsy people in the furry community earn a commission by expressing their individuality and creativity by making digital artwork, mascots, and even fursuits. Let us learn how fursonas play an ideal role in creating a highly personalized fursuit.
Fursuits are customized animal costumes worn by members of the furry community or by various cosplayers. Many people like to perform theater acts in fursuits, and these costumes represent a character they may want to portray.
But fursuits are popular in the furry fandom as they are customized according to a furry's liking. Moreover, crafting fursuits is a highly creative hobby for many fandom artists.
Artists use a fursona to model a fursuit. Therefore, fursuits are highly personalized according to a person's liking. Fursuiters, a subcategory of the furry fandom, wear fur costumes.
This clarifies that not all furries need to wear a fursuit to be a part of the furry fandom. Instead, it is more like a personal choice.
Moreover, not all fursuits must look like a person's fursona. Some of them are modeled like Pokemon or other anime characters.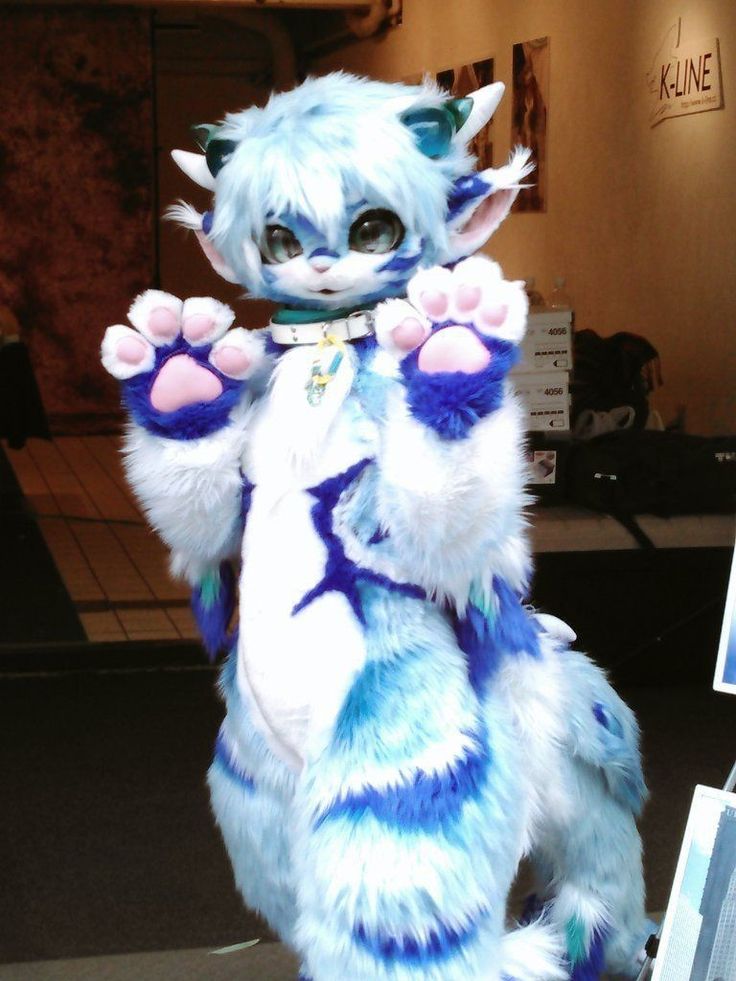 Example Of Kemono Fursuit
Image via Pinterest
Why Do Furries Wear Fursuits?
People who belong to the subcategory of fursuiters like to dress up in fursuits. They like to represent themselves through creativity. Moreover, identity and self-representation are core values of the furry fandom.
Thus, some people like to represent themselves through their fursonas while others imitate the characters which represent them. However, some fursuiters also dress up solely for entertainment.
These fursuiters only dress up for comic cons, anime, and furry conventions. But the sole purpose of wearing a fursuit amongst furries is to use your alternative anthropomorphic character suit for introducing yourself to others.
How Much Does a Fursuit Cost?
Fursuits require highly complex crafting techniques and expensive props and materials. Due to this, fursuits are on the upper end of the price spectrum. If you're impatiently waiting for us to reveal the price, let's jump into it immediately!
The minimum cost of a personalized fursuit is between $2000 to $6000, which is quite expensive. But if you're going to purchase a fursuit for this much money, you must understand that crafting fursuits requires a lot of time, money, and effort.
In addition, the prices vary from artist to artist. For example, some artists create fursuits out of costly materials, while others use inexpensive materials to meet your budget.
If you're looking for a vague idea, the fursuits come at a range of prices, generally between $500 to $6000. Readymade fursuits typically cost less than customized fursuits as they do not require attention to detail.
But it would help if you remembered that most fursuits are priced according to the suit's complexity, the artists' skill, and the material used.
Can You Make Your Own Fursuit?
Have you thought about becoming a part of the furry community? Well, you must have looked into fursuits. While you can find numerous fursuits online, they may be at the upper end of the price spectrum.
Moreover, they lack personal touches. Therefore, you might want to make a highly personalized fursuit.
Crafting your fursuit is one of the best ways to get an accurate and affordable costume. If you want to create your fursuit, you may have to surf through thousands of youtube videos, crafting channels, and WikiHow's guides.
Moreover, you'll have to look into different materials and what may work best for you. For example, some people prefer faux fur while others choose cotton clothes and embroidered outlook.
However, the most challenging task of making a fursuit is to get unique ideas and transform them into suits. But if you wish to save time, we have a handy guide for getting ideas for your next fursuit.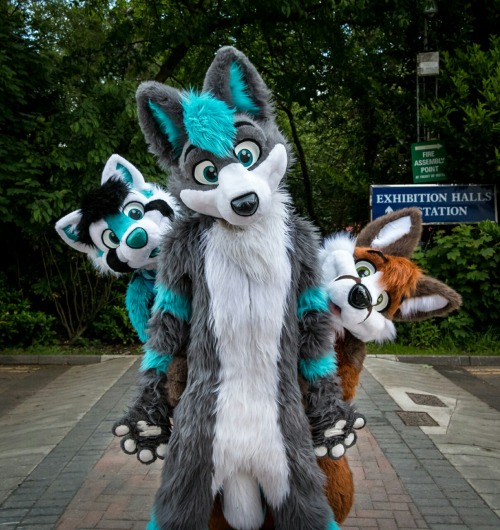 Three Plantigrade Fursuits
Image via Wikipedia
Best Ways to Get Ideas for Making a Fursuit
Are you looking to make a unique fursuit at an affordable price? Here are some of the best ways to get unique ideas for crafting your next fursuit. 
Browsing Furry Art Sites
One of the simplest ways of getting unique ideas for making a fursuit is by surfing through furry art sites. This includes visiting sites such as FurAffinity, etc.
You can also look for Pinterest posts or join social media platforms with furry groups. Furries often share their ideas and costumes in these groups. 
Once you find something you like, you can look for the original artist. You can stalk their profile or contact them to work on your fursona. Once you get a personalized fursona, crafting a fursuit for your customized fursona is easier.
However, furry art sites have one downside that this may not be the most reliable method for getting a fursona as some artists may not allow you to use their digitally created fursona for your suit. 
If that's the case, you can contact digital art sites for furries and request them to create a personalized fursona. Once you purchase the fursona, you can use the idea to make your fursuit, which resembles your digital fursona. 
Freestyle
Another excellent idea for crafting a fursuit is to have your artistic vision carry you to the final product. You can draw a rough sample of your fursona. Then list down the material you could use for creating the costume. Next, choose the colors. 
This way, you can create a unique fursuit, as the final product will be the outcome of a freestyle costume-making technique. However, the downside is that this method works well for people with good art skills.
If you haven't created a fursuit before, you might risk it by freestyling the design. Therefore, this method works best for intermediate artists or people incredibly confident in their art skills. 
Video Tutorials/Guides
Before diving into making a fursuit, you must check out various video tutorials and guides for better costume-crafting ideas. We suggest you watch fursuit inspiration videos on Youtube or check out some Twitter threads before you start crafting the costume.
Such guides often discuss materials and what may work best for your fursuit. For example, a Twitter thread by a furry suggests that you use Eva foam for crafting a fursuit. Typically, artists use upholstery foam which may require more work to model the body and head.
The Twitter thread shares pictures of the materials and the technique of using Eva foam. In contrast, many other videos of fursuit makers suggest using upholstery foam. However, this material is more challenging to manage and craft.
Therefore going through various inspiration guides can help you pick out different materials you can work with. In addition, they give you a better idea about sculpting a scale model and how to transform it into a unique fursuit according to your liking. It also guides you better about various materials and their ease of use.
Furry YouTube Channels
Furry youtube channels such as Mugiwara Cosplay feature excellent video tutorials for crafting fursuits. The featured videos outline crafting techniques and demonstrate every step of making a unique fursuit.
Such videos can help you get better ideas about crafting your own fursuit. Moreover, if you're stumped for ideas, these videos will help freshen up your mind, and you may precisely understand what you want from your fursuit.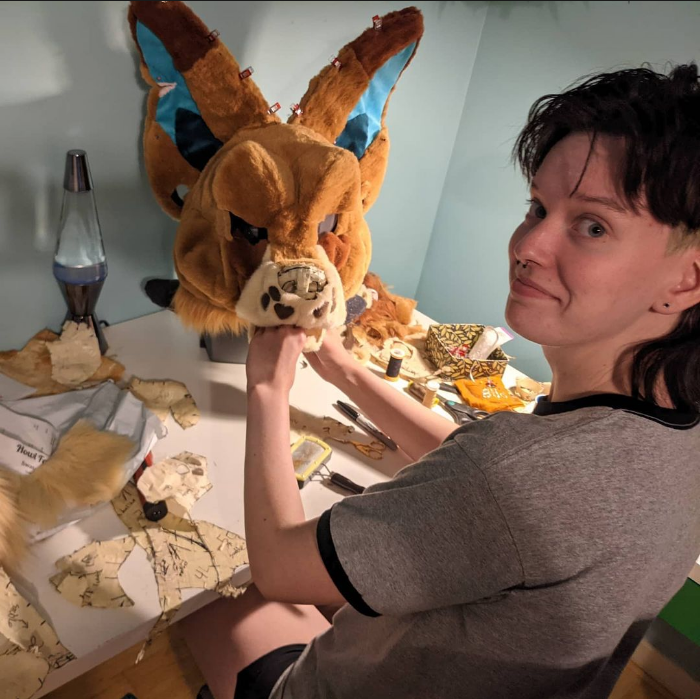 How Do You Make A Fursuit?
Once you understand the type of fursuit you want, you can use various crafting techniques to create an affordable fursuit. But you need good art skills to convert your ideas into a practical suit. Here are some fantastic ways of making a practical fursuit. 
Sculpt the Head
Before designing the entire suit, you must consider sculpting the suit's head. Choosing the shape of the head is the primary step in crafting a fursuit. It would be best if you decided whether you want a wide-shaped head or a round and small snout for your character.
Once you decide on the shape, it is time to sculpt the head using various materials. You can use plush fursuit props, fleece, or cotton for shaping the head. 
Add Fur/Plush Material to the Head
Once you have sculpted the head, decorate it by adding fur, filling plush material, and making the eyes. You can use faux fur or mesh for this purpose. Next, use vinyl mesh to create eye fabric. 
You must cut out a short piece of the fabric and fit it in the eye holes. Then paint the irises and the pupils with fabric paint. Then add the whites of the eye by using a white foam. 
The next step is to create a pattern for fur. You must ensure that you accurately cut the fur fabric to fit the head nicely.
Once you cut the fur fabric, glue it to the sculpted head. Then use fleece to create the mouth, ears, and nose. Make sure to create tiny holes in the fabric when you craft the suit's nose. 
Crafting the Body
If you have never crafted a fursuit, it is best to use a sewing pattern. You can purchase a sewing pattern from online craft stores. 
You only have to ensure that you are purchasing a jumpsuit pattern for your fursuit. Next, you must use a single type of fur for the body. This is an ideal crafting technique for beginners as it may be more challenging to use different kinds of fur material. 
Once you have decided on the fursuit plan, you can cut out the fur material with a sewing pattern. Use the sewing machine to sew together different pieces of the bodysuit. 
Add a zipper at the front and back of the fursuit before you start to work on the tails and paws. 
Attaching the Tail
Creating a tail for your fursuit is the easiest step. It would be best to cut a long piece of faux fur, sew it together, and then attach it to the fursuit.
Add a wire inside the fabric roll if you want the tail to be bouncy. You can also secure the tail around with a belt underneath the bodysuit. But this will require cutting a hole in the fursuit and the bodysuit to feed the tail through the two materials. 
Making Paw Pads
You can make the paw pads by cutting out a paw pattern on cardstock paper. You can also craft the paw pads by tracing your hand and foot on the paper. Then leave room around the border to make the paw pads large. Next, cut out the pattern with sharp scissors. 
Use the pattern for cutting out four pieces of paw pads. Then, add fur to the paw pads and sew it on the inner side of the bodysuit. 
It will keep the inseams on the inner side of your costume. Then add adjustments before you finalize the paws. In addition, you can also use canvas shoes as a base for your footpads. 
You can stick hot glue to the canvas shoes. Add a large piece of foam to cut out the toes. You can sew the toes for an exact shape. Then attach fur to the foot paws, and you're good to go!
Finding unique ideas for your fursuit can be challenging. Moreover, crafting a fursuit from scratch takes a lot of work. Therefore, if you have the budget, it is best to find an artist from the furry community to receive your customized fursona.
In addition, you can also look for fursuit makers and negotiate a reasonable price to receive a highly customized fursuit! But if you want to utilize your art skills, you can mix and match some of these ideas to create a customized costume for yourself!